Virginia might be for lovers, but romance is alive and well in the Jupiter Florida area!
Here in the season of love, we think it's a great time to share some of Nicole Stanbra's own recommendations for romantic outings with the one you love.  The Jupiter Florida area is a beautiful place to celebrate a budding romance, or one in full bloom.  Roses are red, violets are blue…
There's so much for couples to do in Jupiter Florida!
There is really no incorrect way to express your love.  Take time this Valentine's Day – or any day – and show your significant other how much they really mean to you with sweet treats, outdoor activities, spa services, or a sunset dinner – or all these things!  The best part about living in the Jupiter Florida area, is that you don't have to spend a lot of money to treat your loved one to a romantic outing.  Here are seven ways to say, "I love you," this Valentine's Day in Jupiter FL.
1. Wake up to confectionery perfection.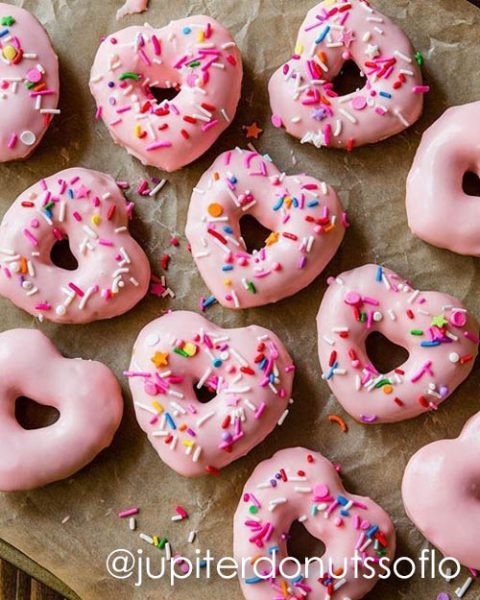 Chuck your low-sugar, low-carb diet out to sea, if only for a day.  Treat yourself and the one you love to delectable heart-shaped donuts at Jupiter Donuts!  If you wonder if these dainties taste as great as they look, the answer is an emphatic YES.
What's more, you are showing a local business your appreciation by treating yourself and those you love by shopping with them.  In these times perhaps more than ever, let's support our local businesses in Jupiter!
Visit their website: JupiterDonuts.com
2. Ditch the diamonds – go for pearls in Jupiter Florida!
Residents and visitors alike seek gifts that speak to their experience in a particular locale.  There is no better way to celebrate visiting or living in the Jupiter Florida area than purchasing a gift that is custom-designed and crafted here in Jupiter.  If you are in search of a truly unique gift of jewelry, Nicole Stanbra says, "You must see Sea Lustre in Tequesta!"  You will find a gorgeous selection of custom jewelry, by Jupiter jewelry designer, Brooke Hartman, as well as beautiful clothing and other unique finds at their store in Tequesta.
Visit their website: SeaLustreJewelry.com
3. Bring a paddle and a picnic for romance on the water in the Jupiter Florida area.
If you love the outdoors and care to work off the sugar and carbs from you doughnut breakfast, Nicole says, "Grab your gear, and do it on the water."  Take to the Loxahatchee River at Jonathan Dickinson State Park in Hobe Sound Florida, on your paddle board or in your kayak.  There's plenty to do outdoors, on the water and off.  Enjoy a hike and a light picnic lunch with your significant other.  No matter how you spend your time here, you will just be glad you came!
4. Stay close to home and create your own unique treasure right outside Jupiter Florida.
Hammer & Stain in Clermont Florida typically offers in-house instruction for creating unique wooden home decor items.  Think of a wine and paint class for those, who would rather wield a hammer than a paint brush.  Hammer & Stain is offering Hammer at Home Kits for Valentine's Day.  Choose from a selection of handmade designs, perfect for giving to the one you love – or creating with the one you love in the comfort of your home.
Visit their website: HammerAndStainCFL.com
5. Say, "Ahhhhh," with a couple's massage.
These are stressful times!  Relax and unwind with a massage.  And why not share the experience with your significant other?  The only thing that could make a couple's massage better?  Sand, sea, and luxury amenities – like those found at Jupiter Beach Resort & Spa.  Spend a few hours, a day, or the entire weekend in the lap of total luxury.  Enjoy their full spa, beachfront accommodations, and dining all in one gorgeous destination.  What a perfect way to celebrate your love for Valentine's Day, or any day!
Visit their website: JupiterBeachResort.com
6. Sunset vistas are romantic and free in Jupiter.
You don't have to spend big for massive romantic effect!  Traipse across the sandy trail and wooden boardwalk with the one you love at Hobe Mountain's lookout tower.  The lookout tower sits atop dunes that are situated 86 feet above sea level, so there is no such thing as a bad view here!  Don't forget the wine.  Toast the day, toast the year, toast to forever with a sunset proposal.  When it comes to love and sunsets, you cannot go wrong.
7. Did we save the best for last?  Perhaps!
In Jupiter Florida, there is dinner by the water…and there's dinner on the water.  If you are looking for a fine dining experience on a charter cruise in Jupiter, Nicole recommends Food Yacht.  If you are in the mood for love and exquisite fare, Food Yacht should be your choice.  Featured on Food Network's Food Boats, every item offered is fresh and made to order by local chef, Justin Lindemann, who is also the ship's captain.  With Food Yacht, you can choose a daytime or sunset cruise.  Live on the water in Jupiter?  Food Yacht also offers dockside catering.  If you are in search of something truly unique and delicious to share with your significant other, consider fine dining in style with Food Yacht.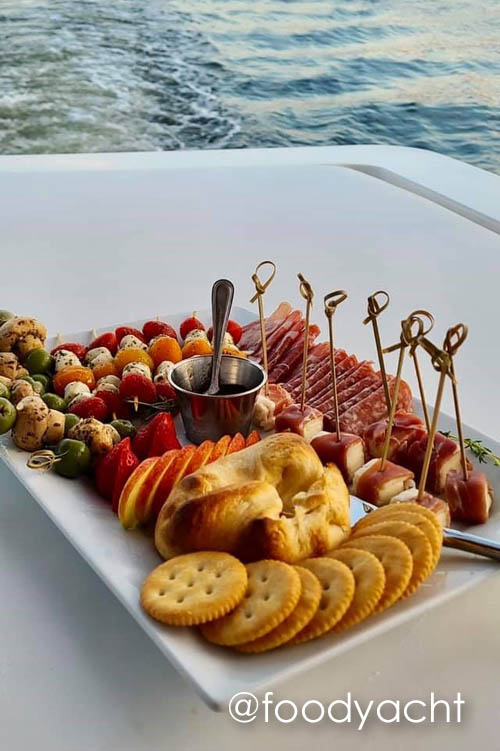 Visit their website: FoodYacht.biz
Looking for homes for sale in Jupiter Florida?  Contact The Stanbra Home Team, your Jupiter Florida relocation experts.  Call us at (561) 468-3532 or click here to schedule and appointment.