Home buying trends ebb and flow, like the Jupiter tide.
If you are relocating in the Jupiter Florida area, should you buy or build a house?
Building a house if often a goal we mentally set aside until later in life.  After all, buying a move-in ready home is ideal for many reasons.  Less work and minimal investment after the purchase with home upgrades are two benefits of purchasing an existing home.  But there are also benefits to building new over buying a move-in ready or brand new home.  Even first-time home buyers can choose to build their home – as there is almost assuredly a build-new option for nearly any price point and stage of life.  Here, The Stanbra Home Team offers pros and cons regarding your choices in home buying, here in Jupiter, or anywhere.
Home Building Pros
The biggest reason to build a new house, is that everything is brand new and unused.  Being the first person or family to live in the home is a great incentive.  You can expect to get the maximum lifespan of your roof, appliances, windows, and more.  Second to that is the ability to customize your new house the way you want it to look and function.  Even in tract home communities, you are able to customize floor plans and finishes – even though your choices from a standard selection of options offered by the builder.  You can choose countertops, tile, flooring, paint, light fixtures, and other finishes, which are to your personal tastes.  Buying a new home in a pre-planned community can offer both customization and a cost savings over building a completely custom home.  Spec homes and new construction communities are the most popular types of new home construction in the Jupiter area.
Building a True Custom Home Pros
This type of new home construction is less common in the Jupiter Florida area.  Building a new house from scratch is ultimately appealing.  This type of new home building includes buying the lot you wish to live on, in the community you want live within.  You can choose to live in a custom home neighborhood, or a private lot that will be all your own.  Building a true custom home also means that you choose your floor plan – any floor plan.  You choose every dimension, finish, and amenity.  This can be especially important for families, who wish to build additional space for aging parents or for disabled persons, who will require custom counter heights, wide door openings, and single-level living – or dual levels with an elevator.  True custom homes offer the most satisfying experience. They are built to the exact specifications of the person or family.  However, this can be the costlier option to home building.  The cost of the house plan would come out-of-pocket.  You would also have to purchase the land, and pay for any required lot preparations.  This could be surveying, soil testing, and utilities installations.
Home Building Cons
With all of the positive aspects of building a new house, what can be bad?  There are a couple of potential pitfalls to building new.  First, building a new home will be costlier than buying an existing home.  The average cost to build a new house in Florida is $425,000.  That is a more than buying a house, which is currently around $215,000.  Then, there is the customization factor.  Selling a custom home might be more difficult when you are ready to move on.  You could end up spending money to make the home less custom before you even put it on the market.  Otherwise, you might have to sell for less than you want, allowing the buyer to make the necessary changes after the purchase.  Which leads us to our next question.
Should you buy a fixer-upper?
Over the last decade or more, we have been bombarded with TV shows dedicated to purchasing a less-than-stellar home to renovate it up to the buyers' standards.  There are shows about buying and restoring historic homes.  There are shows about buying homes that are stylistically trapped in the decade they were built – enter, pea green shag carpet and wood paneling.  While TV shows entice us to buy a house for cheap for the purpose of fixing up, most times they do not represent the pitfalls that come with buying old and making it new again.  Anything from old roofs and windows to failing foundations can be a buyer's nightmare in these scenarios.  If you want to buy a fixer-upper, know that this type of home buying is not for the faint of heart.  Not only could you be in for more work than you imagined, but you could also go well over budget on your renovations.  It could cost less to build a new house in the end.  On the other hand, the sense of achievement you feel after your successful renovation could pay off in spades.
Buying New and Move-in Ready Homes
The term 'move-in ready' is a huge selling point for many buyers.  The idea of being able to close on your home, get the keys, and move in immediately is alluring.  This is especially true if you are relocating from out of state or out of the general area that you are moving to.  Bring your furniture, your clothes, your dishes, and the kids – and just move in!  The only drawbacks to moving into a home that is already built is that you will not be able to customize it to suit your needs.  You might be left with a house that almost suits your needs.  Maybe you really wanted one extra bedroom or bathroom for guests but couldn't get it in the neighborhood where you want to live.  Maybe you preferred all hard surface floors but have carpet in the bedrooms.  Even if the changes you want to make will be small, like paint or cabinet hardware, you can still be left with the feeling of buying a home that was not exactly what you wanted.  On the plus side, you likely saved cash buying instead of building, so you will have money to make some small changes when you have time.
Ready to buy a new house in the Jupiter Florida area?
The Stanbra Home Team is ready to make your new home construction dreams come true!  At this moment, we have a new home that is being constructed in Jupiter Florida.  This waterfront home will be a show-stopper, setting the bar for luxury living in the area.  If you are interested in this beautiful home, get in touch with Nicole Stanbra now.  It will not last!
New Construction Waterfront Home Details
19150 SE County Line Rd, Jupiter FL
Gorgeous half-acre private lot along 156' of water frontage
State of the art spec home to be completed by July 2021
Transactional-Coastal-Modern design elements throughout
Offered at $4,080,000 pre-construction
Not ready to buy or build a new house just yet?
If you are not ready to buy or build a new house yet, that's okay too.  The Stanbra Home Team will be ready when you are.  In the meantime, here are some helpful tips in the home buying and building process, which will help you prepare.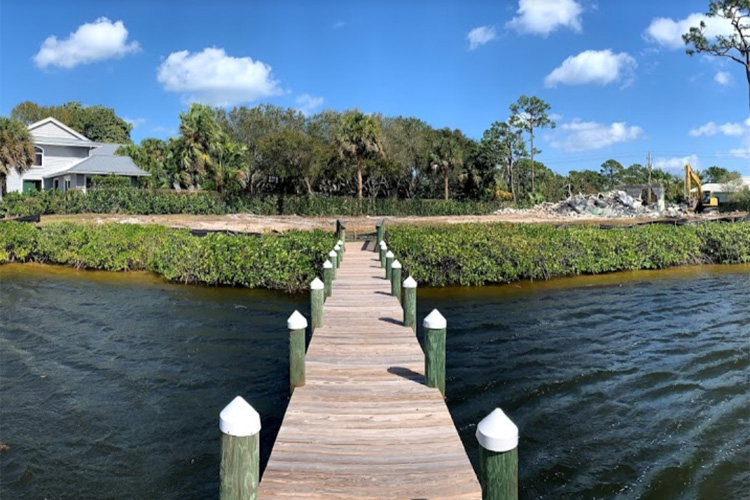 Know where you want to live before building or buying a house.
Narrow down the location you want to live in. Palm beach and Martin counties offer so many beaitufl community options so take your time and drive through the different areas to determine your ideal home site location, or desired resale community neighborhood (delete the info on privacy)
Single family home, townhouse or Condo? Budget and location play a big role in deciding the type of property you may want to purchase. If living on the water is a must have but you have a limited budget, a waterfront condo may be a more affordable option versus a single family home on the water. What is most important to you: Privacy, Low-maintenance, sense of community, amenities? These features will also play a role as to type of home that best suits your needs. For example, if you are considering a secondary property to serve as a vacation home; you may consider a low-maintenance, private, gated condo which you could easily "come and go" and use for long-weekend trips and winter vacations.
What is your timeline? Whether you are just beginning your home search or planning to relocate to Florida in the next year or so, there are options for all circumstances. For buyers who are ready to purchase a home in the next 1-3 months, you may consider a move-in ready resale property which would allow for a quick close. If you are planning your retirement in the next year then perhaps you could use that time to build a new construction home! Working with a real estate professional who understands you timing and motivation helps coordinate and strategize your home purchasing goals.
See these new construction communities in the Jupiter Florida area!
Take a look at these new home communities in Jupiter and Palm Beach Gardens, Florida.  If you are ready to discuss living in one of these new communities, get in touch with The Stanbra Home Team.
Bridgewater – Jupiter, Florida
This new home community is coming soon!  These new homes will be situated on lots that are 1+ acres, with pricing in the low $1,100,000's.
Sonoma Isles – Jupiter, Florida
This gated DiVosta community offers new homes from three to seven bedrooms, with prices starting in the mid $800,000's.  Sonoma Isles is a luxury community, featuring a clubhouse, pool and spa, fitness center, and a "tot lot" play area.
Ancient Tree – Palm Beach Gardens, Florida
Ancient Tree offers brand new homes on over-sized lots for a balance of privacy and communal living.  These three and four-bedroom homes start in the high $600,000's.
Artistry – Palm Beach Gardens, Florida
Artistry, a Koehler Homes Community, offers move-in ready homes from two to six bedrooms.  Prices range from $700,000 to $2,000,000 in this private gated community.
Looking for homes for sale in Jupiter Florida, or are you ready to build a new house?  Contact The Stanbra Home Team, your Jupiter Florida relocation experts.  Call us at (561) 468-3532 or click here to schedule an appointment.
Build your Palm Beach dream home with The Stanbra Home Team!