Grab your ghosts and ghouls, Jupiter Florida is ready to party this Halloween season.
There's lots to do around the Jupiter area to celebrate the upcoming Halloween holiday.  Where might you find yourself in 2021?  The Stanbra Home Team has assembled a list of events.  Maybe we'll see you around town!
This FREE, inclusive, and family-friendly event takes place on Friday, October 22, 2021.  Festivities begin at 5:30 P.M. and include music, trick-or-treating, pumpkin decorating, and games galore!  Bring your appetite and enjoy a food truck treat.
Teal Pumpkin Project non-food items are available at this event!
Location: Jupiter Community Center, 200 Military Trail
This fun, free, and family-friendly trunk-or-treat begins on Saturday, October 30, at 4:00 P.M.
Location: Unity of Jupiter, 550 Bush Road
PB Annual Boo Bash – West Palm Beach, Florida – October 24
Fun for the entire family, this is the second annual Palm Beach Wedding Expo Annual Boo Bash.  Thousands in prizes up for grabs, trick-or-treating, crafts, and lots of vendors.  This event begins on Sunday, October 24, at 1:00 P.M.  Entry fees are $8 – $25.
There are two ticket entry times for this event – 1:00 – 3:00 and 3:00 – 5:00.
Location: Hilton Palm Beach Airport, 150 Australian Avenue
A $5 cover fee will get you into to this year's Halloween Skate Contest at Jupiter Skate Park.  Registration is required prior to the event.  There will be a scooter contest at 4:00 P.M. with the main event skate contest starting at 6:00 P.M.  Age divisions for competition are: 11 and under; 12 to 15; and 16 and over.  Awards will be given for the top three finishers in each age division.
Event contingent on good weather.  Costumes are encouraged!
Location: Jupiter Skate Park, Jupiter Skate Park, 1501 W. Frederick Small Road
This family-friendly celebration begins at 11:00 A.M. on Saturday, October 23.  Enjoy creepy critters from the Busch Wildlife Sanctuary, face painting, trick-or-treating, a costume dog show, and more!
Check-in at parking lot adjacent to Patio Shoppe.
Location: Legacy Place Shops, 11290 Legacy Avenue
This event costs $35 – $40 per participant.  Bring your own snacks, paint a pumpkin, and dress (up) to kill for your chance to win first or second place in the costume contest.  Festivities begin at 7:00 P.M.
Reservations recommended.  Karaoke to your favorite song too!
Location: 1695 W. Indiantown Road, Ste. 13
This event begins at 4:00 P.M. and includes spooky themed food and cocktails.  Wear a costume and your first drink is on the house!
Party till midnight!  Must be over 21 to purchase alcohol.
Location: Wyndham Grand, 122 Soundings Avenue
Join Cucina Cabana for this doggy Halloween event, starting at 5:30 P.M. on October 26.  Bring your costumed pooch for a chance to win the grand prize!
This is a Big Dog Ranch rescue event – dogs will be available for adoption!
Location: Cucina Cabana, 1201 US Highway 1
—HALLOWEEN 2020 BELOW—-
Will there be trick-or-treat in Jupiter Florida?  Should you go?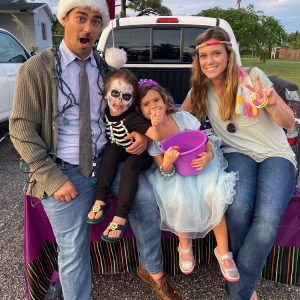 Just like every other U.S. locale, Jupiter Florida is feeling the effects of COVID-19 this Halloween.   The City of Jupiter has canceled their yearly Kooky Halloween event, and you will likely find that hayrides, fireside ghost stories, and haunted houses are all a no-go in 2020.  Even though the CDC has made recommendations for keeping Halloween festivities safer this year, and some Jupiter neighborhoods might be hosting a version of trick-or-treat, perhaps you have decided to remain at home.  All is not lost if you decide to keep your family safer at home this Halloween.  You don't have to completely cancel the holiday.  Here are some great at-home All Hallow's Eve recommendations.
Host a spooky movie night.
There is no shortage of age-appropriate Halloween movies for your youngest residents.  Check out this list of great recommendations!  Decorate your family room with strings of orange and purple Halloween-themed lights, and create a camp-in on the floor with flashlights and sleeping bags.  Have lots of sweet treats and popcorn on-hand for your little ghouls and goblins to munch on, just like they would at the movies!
Have a frightful and delightful scavenger hunt at home.
Think of the excitement of hiding and hunting Easter eggs and take it to the next level for Halloween this year.  Hide prizes inside and outside your home, and create fun clues and maps for the kids to follow through their hunt.  If you don't wish to hide items, simply have your children find items you already have around your home from a list, and reward them once all have been checked off the list.  Perhaps a pail full of Halloween goodies would make the perfect prize!  See some great scavenger hunt lists here!
Bake and create Halloween-themed goodies.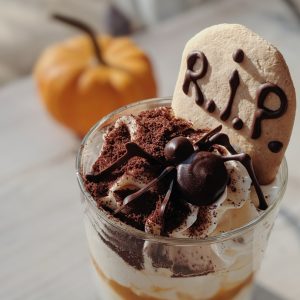 Your kids won't mind if your baking skills are not up to par with the Cake Boss.  Take some time to plan an evening of cookie or cupcake baking or candy-making with your little ones, and show them the rewards of indulging in their own sweet creations.  Allow them to dress up in a favorite super hero or princess costume, and don't hold the sprinkles!
Host a virtual costume party.
Dressing up is half the fun of Halloween, and you don't have to skip costumes this year, even if you do stay at home.  Organize a family and friends virtual costume party.  Let your little ones show off their imaginative costumes online.  Adults can get in on the fun, and surprise the tiny party-goers with their costumes too.
Create a neighborhood pumpkin carving contest and costume parade.
If you feel safe enough to allow the kids to mingle in your neighborhood for a while on Halloween night, organize a socially-distant costume parade, where each family can walk down the sidewalk to show off their spooky style.  Ahead of the parade, you could get the families in your neighborhood to carve pumpkins and put them on display, all lit-up for parading pirates and princesses!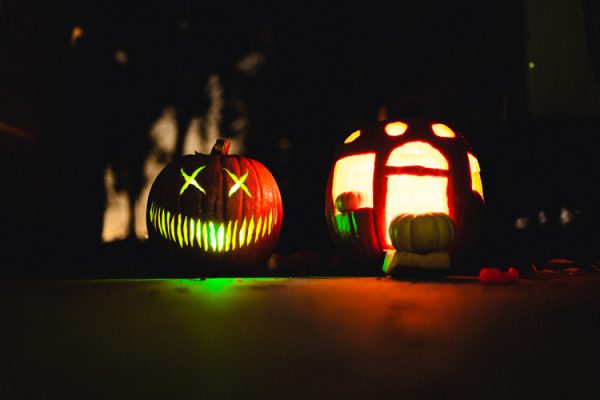 If you decide to trick-or-treat in Jupiter Florida this year, here are some CDC recommendations for keeping it as safe as possible.
If you decide to take your family out into your Jupiter Florida neighborhood, the CDC reminds everyone that the longer you are around neighbors, the better the chances of becoming infected with COVID-19.  You should keep your entire family socially-distant from neighbors, and trade out typical Halloween masks for the double-fabric or medical masks we have all been wearing for the last few months.  If you decide to treat at your home, you can do no-contact treats by bagging them up and placing them in a container by your steps, so kids can grab their own treats!  Don't forget to leave your porch lights on to alert tiny goblins that you are offering treats at your home.  Bring along your hand sanitizer.  Smaller crowds are better if you decide to celebrate outside your home.  And speaking of outside, your family will be safer around others outdoors rather than in.  The CDC does not recommend attending indoor parties for Halloween.  For outdoor celebrations, less attendees means less of a chance for infection.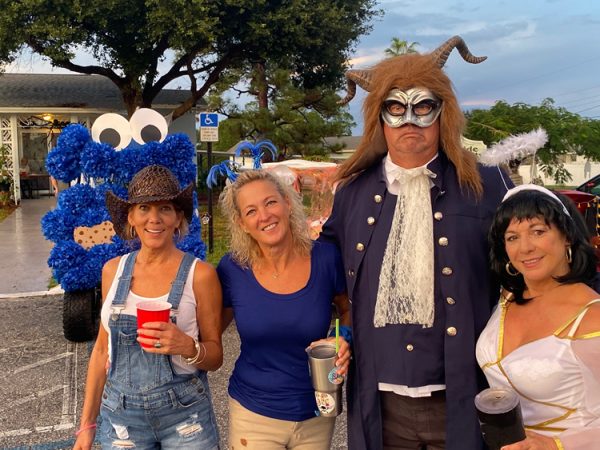 Looking for homes for sale in Jupiter Florida?  Contact The Stanbra Home Team, your Jupiter Florida relocation experts.  Call us at (561) 468-3532 or click here to schedule and appointment.