Jupiter Florida and the surrounding Palm Beaches area are full of former New York residents.  North-easterners move to Florida in search of sunshine and sand, but will be happy to know there is decent New York pizza here too!
Our beloved pizza.  It's the go-to mid-week takeout for work-wary parents.  It graces the tables of weekend birthday parties.  Pizza is easily found, an Italian dish that has become as American as apple pie.  And the debates about toppings, or whether New York pizza beats a Chicago deep-dish are alive and well on social media.  Some people like pineapple, while others would not dare!  Pizza was the food of poor Neapolitans back in the 1600's, but is a worldwide staple today.  Almost everyone likes some form of pizza.  You can find vegan and non-dairy varieties.  If you ask anyone, who has ever moved far from home, they will tell you they miss their favorite pizza joint back at home.  People, who don't like it, are few and far between.  When someone claims to dislike pizza, we try to get them to try our favorite pie to see if ours will sway them.  Pizza is in our DNA!
Where can you find great New York pizza in Jupiter Florida?
Homegrown New Yorker, Nicole Stanbra, moved to Florida a decade ago, and went quickly into her search for great NY-style pizza.  Nicole says, "I searched near and far for anything that came close to classic New York pizza in Jupiter Florida – thin crust, crispy on the bottom, with just the right amount of sauce and cheese!" Adding to her frustration, was that it was difficult to find pizza by-the-slice in the area.  Nicole's persistence prevailed, and she has created a list of her favorites to share with visitors and new residents in the Palm Beaches area.
Angelo's in Jupiter and Jupiter Farms, Florida:
Jupiter FL Location: 155 Toney Penna Drive, Jupiter, FL 33458
Jupiter Farms FL Location:  10136 W. Indiantown Rd, ​Jupiter, FL 33478
Nicole says that Angelo's thin, classic NY style pizza is her family's Friday night go-to.  They offer dining for parties of up to 40 people, as well as off-site catering, and delivery.  You can also order online!
Nicole's favorite pizza at Angelo's:  Gluten-free Hawaiian (pineapple and ham)
Carmine's Coal Fired Pizza in Jupiter, Florida:
4575 Military Trail #101, Jupiter, FL 33458
Carmine's offers indoor and outdoor dining, as well as delivery and curbside pick-up of their New York pizza in Jupiter Florida.  It wouldn't be the 21st century without online ordering.  Carmine's has that too!
Nicole's favorite pizza at Carmines:  Carmine Pizza (fresh basil and sausage)
Grimaldi's in Palm Beach Gardens, Florida:
11701 Lake Victoria Gardens Ave 3101, Palm Beach Gardens, FL 33410
Grimaldi's claims to be the best New York pizza in Palm Beach Gardens, Florida.  Well, they have won Nicole over, so it must be delish!  They offer dine-in, carry out, and delivery.  You can order online here too!
Nicole's favorite pizza at Grimaldi's: Meatballs and Artichoke
Willie's Pizza in Juno Beach, Florida:
14731 US-1, Juno Beach, FL 33408
Nicole says, "It's not every day you find AMAZING pizza in a gas station, but don't let that fool you!"  She claims that Willie's New York style pizza is as NY as they come.  Just like prime real estate, this pizzeria is all about, "Location, location, location!"  You can grab a slice and walk across the street for a picnic at Juno Beach pier to enjoy all that the area has to offer.
What about Chicago style pizza in the Palm Beaches area?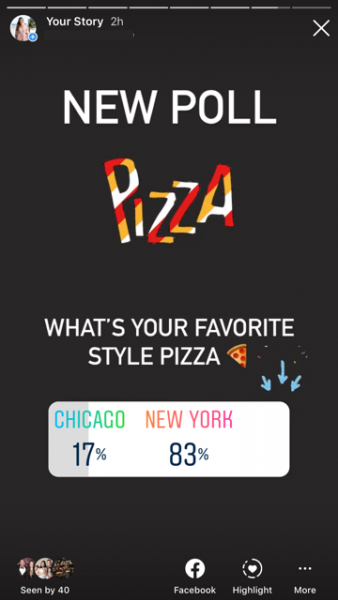 Midwestern imports, we didn't FORGETABOUT you!  Even though our recent Facebook poll was a landslide, we see you.  Much like your New York counterparts, you too, are in search of sun and fun in Florida…and also the pizza you love back in Chicago.  You are looking for that perfect deep dish pie, full of a variety of cheeses and toppings.  Can you find great Chicago pizza in Jupiter and Palm Beach Gardens?  You sure can!
Palma Pizza in Palm Beach Gardens, Florida:
4595 Northlake Blvd, Palm Beach Gardens, FL 33418
Palma was voted #1 pizza in Palm Beach Gardens on Yelp in 2017, 2018, and 2019.  Palma offers both New York and Chicago style pizza.  So, if you are a house divided on your favorite style, you can get both!  They offer catering, dine-in, delivery, and take-out.  You can order online from Palma Pizza too!
Allora Pizza & Pasta in Palm Beach, Florida:
420 US Hwy One North Palm Beach, FL 33408
Allora offers dine-in, carry-out, and delivery of their highly-rated New York and Chicago style pizzas.  They also offer gluten-free and large menu of gourmet pizzas.
Perhaps you will move here for the warm Florida climate…but you'll stay for the pizza!
Looking for homes for sale in Jupiter Florida?  Contact The Stanbra Home Team, your Jupiter Florida relocation experts.  Call us at (561) 468-3216 or click here to schedule and appointment.
Ready to relocate to Jupiter Florida?